Life insurance is a way of providing a financial safety net for your family and loved ones. However, in some circumstances, an insurance company may deny the claim leaving the grieving family in a difficult position. Commonly, an insurer will deny the claim based on a material misrepresentation contained in the application for coverage. In this blog, we discuss a situation in which our client, Mrs. T, a beneficiary under a life insurance policy, was denied benefits where the insurer took the position that her deceased husband misled the insurer on an important health issue in order to obtain coverage. Mrs. T hired us to take a closer look.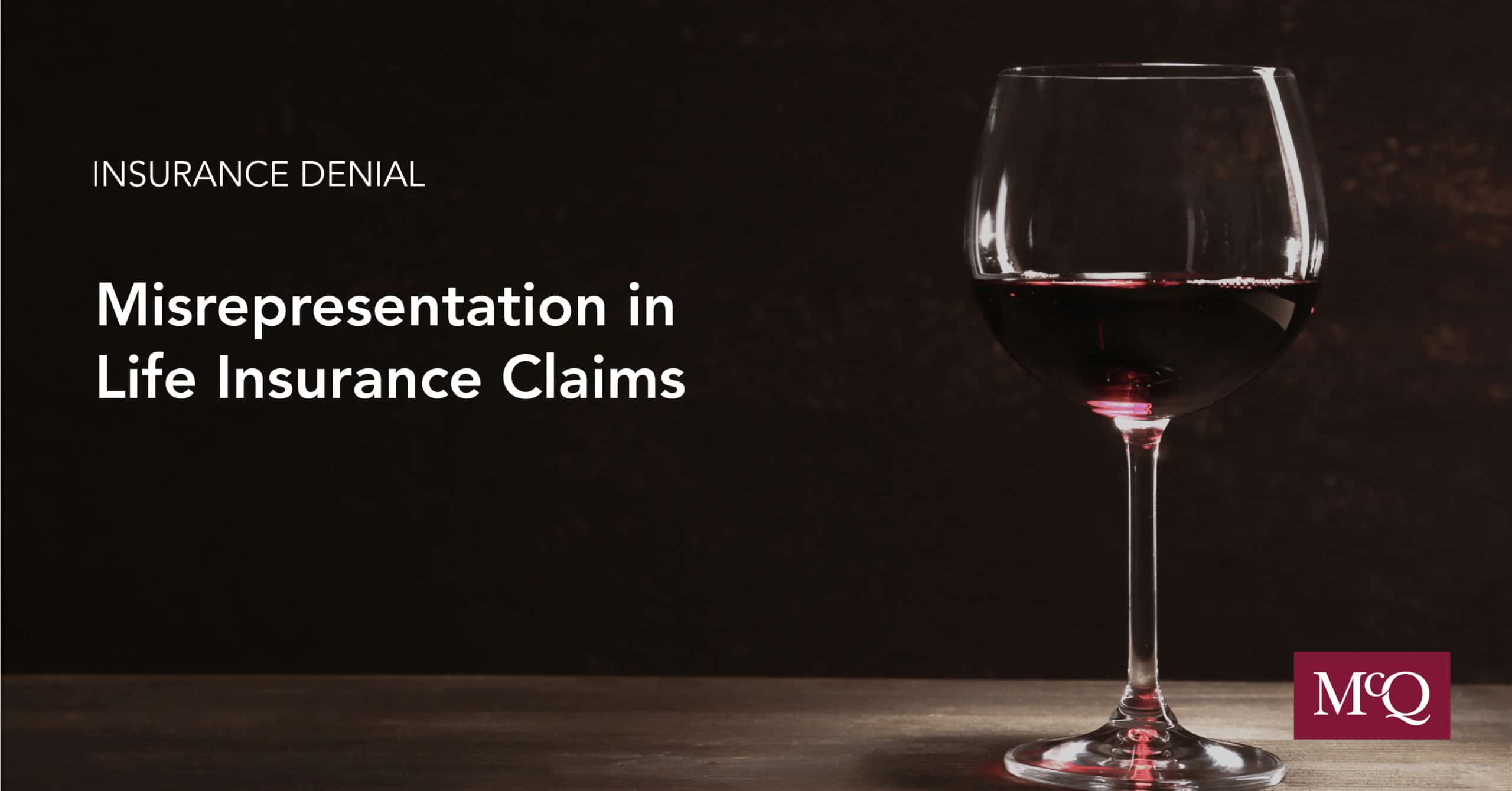 Mrs. T had been married to her loving husband for over 30 years. They raised a family together and enjoyed their time as a family. Mr. T was a very hard-working, devoted family. He was a valued employee at his workplace and had a kind word to say about everyone.
Mr. T was also a high-functioning alcoholic.
Years earlier, Mr. T applied for life insurance to financially protect his family in the event of his untimely death. In the application, Mr. T answered openly about his health condition, including that he suffered from high blood pressure and high cholesterol, and disclosed a family history of stroke, cancer and diabetes. He also answered "yes" to consuming alcohol and indicated he drank 12 to 13 ounces of liquor per week.
Upon reading his answers, the insurance company provided him with life insurance coverage, with Mrs. T as the beneficiary. The insurance company collected premium payments for many years.
Unfortunately, Mr. T died unexpectedly. The cause of death was liver failure due to alcohol abuse.
Life Insurance Claim Denied — Deliberate Misrepresentation or an Honest belief?
When Mrs. T applied for the life insurance benefits. The insurance company reviewed Mr. T's medical records and found that his doctor had advised Mr. T to seek treatment from Alcoholics Anonymous prior to him completing his application seeking life insurance. The insurer said that if it had known that his doctor told him to seek help and that there were abnormal liver function results, it never would have approved the life insurance. In that regard, they wrote to Mrs. T telling her the claim for benefits was denied.
How Insurance Denial Lawyers Can Help
Mrs. T hired us to challenge the insurance company's denial.
Upon reviewing the medical information, it appeared that Mr. T had likely misrepresented his alcohol consumption. He was likely drinking over 13 ounces of alcohol per week. However, the policy was in place for longer than 2 years prior to his death. That meant the insurance company had to prove that Mr. T's statements were not only incorrect but also fraudulent. The law requires that in order to prove fraud, the false representation, among other things, was made without belief in its truth.
We argued that one of the hallmarks of a person suffering from alcoholism is their inability to admit the problem to themselves. Denial is a common symptom of alcoholism. Many people struggling with an alcohol-misuse disorder believe that they do not have an addiction, even when all evidence points otherwise. The fact that Mr. T could function and excel at work fed his denial and led him to believe that he was not an alcoholic. For Mr. T, the truth about his actual consumption was so threatening to his ego that he misconstrued or even forgot his level of drinking. When he answered in the manner he did, he had an honest belief that he was providing accurate information.
Have you been denied your life insurance claim?  Contact one of our experienced insurance denial lawyers today. We work on a contingency fee arrangement so there is no up-front cost to you and you only pay a legal fee if the insurer pays you 604.581.7001
Conclusion
Where a life insurance policy has been in place for at least 2 years, the onus is on the insurance company to prove that the material misrepresentation was fraudulent. We argued that, in the specific circumstances of this case, the insurer would likely not succeed in doing so. Ultimately, Mrs. T's lawsuit against the insurance company was resolved through the process of mediation and the insurer agreed to pay Mrs. T.
Has your life Insurance claim been denied? Contact us for a free initial consultation.