Long-term disability insurance is designed to assist individuals who become ill or injured and therefore are unable to work. However, LTD insurance claims often get denied causing even more anxiety and stress for those who lost their income due to a medical condition. Has your Long Term Disability claim been denied? Are you unsure what to do next? Continue reading to find out some of the most common reasons for insurance claim denials and what you should do when your insurance company denies or stops paying your claim.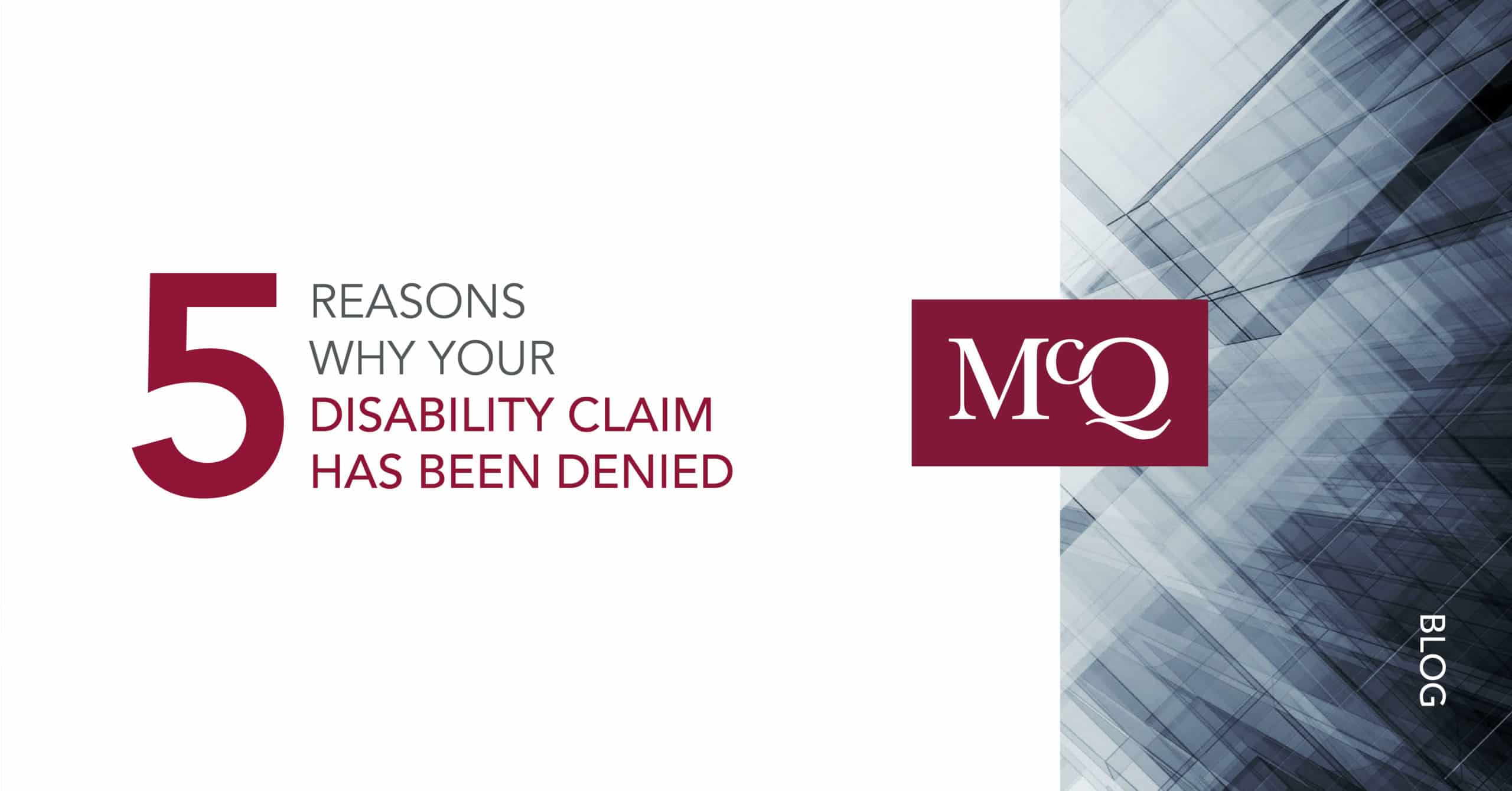 My LTD Claim Was Denied Because of a Lack of Medical Evidence 
A common reason for benefits denial is that the insurance company finds the evidence of disability to be insufficiently persuasive. This is especially the case with 'invisible illnesses' such as chronic pain, fatigue, depression and anxiety. These conditions, while having a debilitating impact on one's life, are often hard to prove when it comes to medical evidence.  
If your insurer says that it does not have sufficient proof of disability, it is a good idea to contact a lawyer immediately. Even if your insurer thinks the evidence of your disability is not-persuasive, you may still be validly disabled and eligible to receive your benefits.  
My LTD Insurance Claim Was Denied Because I Am Not Deemed Disabled for Another Occupation

If your illness or injury prevents you from performing the main duties of your "own occupation", you may be able to qualify for disability insurance benefits. Depending on the policy, the qualifying threshold may range between 60-70% of the job duties you had prior to becoming disabled. After 12-24 months of own occupation coverage, a medical consultant will review medical information to assess the eligibility of the individual to transition into "any occupation" coverage. 
During this transition process, the insurer assesses whether the claimant is unable to work in any other occupation. Such transition often gives insurers an extensive list of reasons to deny LTD benefits. The assessment of your transferable skills and definition of "total disability" may vary greatly and is not subject to any external review, so you may be able to successfully appeal your claim denial. Again, it is very important to contact a lawyer if your insurer denies your claim at the change of definition from "own" to "any" occupation.
If your insurer has denied your disability claim, you may still be eligible for your disability benefits. You only have a limited time to make an appeal and seek legal action. Contact our Insurance Denial lawyers today to book your free initial consultation 604.581.7001
My Long Term Disability Insurance Claim Was Denied Because of An Exclusion In My Insurance Policy

Each insurance policy has a copious amount of "fine print" which outlines a long list of exclusions and policies the insurer can use to deny claims. 
Some of the most common exclusion policies outline the grounds for insurance denial for those who have pre-existing conditions. If the first symptoms of your disabling condition fall within the exclusionary language of the policy, the insurance company may use that as the ground for enacting an exclusion clause. However, these clauses are often open to interpretation and in most cases you are not even provided the policy to read what it says. 
It is important to remember that the insurer's analysis of the timeline of your disability may not be valid. An experienced insurance denial lawyer will be able to review your medical record and assess if the insurer's analysis is, in fact, compliant with the legal and medical realities. 
My Disability Claim Was Denied Because An Outside Expert Does Not Consider Me Disabled
Another way an insurance company may deny your claim is when it hires an expert to assess the status of your condition. It is a common occurrence that the medical professional associated with the insurance company does not agree with your doctor's medical reports. 
This can be a particularly intimidating tactic used by insurance companies. Yet, it is essential to remember that the opinion of a doctor who supervised your condition for a prolonged period may have better evidence to support it compared to that of an outside expert. 
My Insurance Rehabilitation Plan Is No Longer Working For Me
Last but certainly not least, an insurance company may require you to participate in a treatment or rehabilitation plan designed by them. However, not all treatments are effective, and you and your doctor may, with valid reasons, disagree with the insurer's plan.
If your insurer thinks that you are no longer receiving appropriate medical care, they may cease your benefit payments. However, the terms "continuous" and "appropriate" care are vastly subjective and may be interpreted differently. Therefore, your insurer's analysis may not be a legitimate ground for insurance payment refusal.
Conclusion

Receiving a letter from your insurance company about your claim denial can be daunting. Insurance companies use subjective terms like "total disability", various unsupervised assessments, and vague clauses in the "fine print" of the insurance contract to deny benefits.   Our experienced lawyers have empowered many clients throughout Vancouver and BC, whose disability claims were refused. Seeking legal counsel as soon as your disability claim has been denied can help you regain control of your financial situation and focus on what matters the most – your health.  
Has your long-term disability claim been denied? Contact us for a free initial consultation.