Accidental death and dismemberment (AD&D) insurance is designed to be "peace of mind" coverage that provides financial support to the beneficiaries in case the insured dies due to an accident. Unfortunately, many accidental death insurance policies come with significant coverage limitations that may not be very clear for the person buying the insurance. Sadly, many accidental death claims are denied, leaving the grieving family in a difficult position of having to dispute the insurer's decision. We discuss some of the most common reasons for accidental death claims to be denied and what to do if your loved one's accidental death claim has been denied.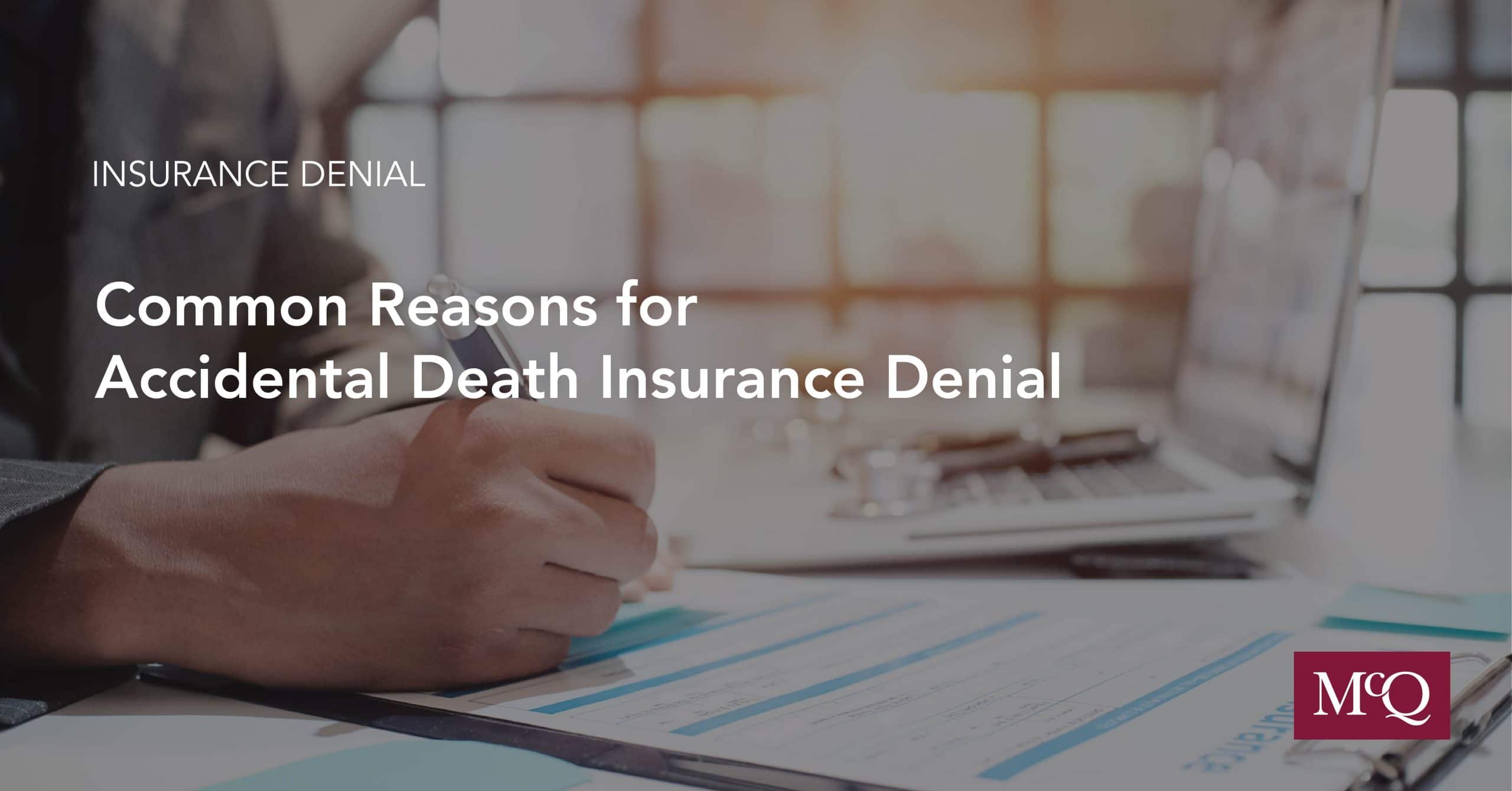 What is accidental insurance?
Firstly, it is important to understand what Accidental Death and Dismemberment insurance is and what it is not. As the name suggests, accidental death insurance covers deaths caused by unforeseen events that end the insured's life while the policy is in force. For example, these could be car crashes, exposure to elements, falls, and other accidents.
If a death occurs due to a natural cause or the accident falls under a list of special considerations or exclusions, the benefits will not be payable. Please note that each insurance policy will have a different selection of what is covered under the policy. Refer to your insurance policy to find out what may and may not be covered. 
Reasons for Accidental Death and Dismemberment claim denial
One of the most challenging issues with AD & D coverage is the narrow definition of accidental deaths. Many insurance policies use complex language to define what is considered an "accident," leaving the insurance policy up for interpretation. Below are some of the other challenging issues regarding why Accidental Death and Dismemberment insurance claims are denied.  
1. Misrepresentation
Misrepresentation occurs when an individual provides false or misleading information to influence the insurance company's decision to issue the policy. Misrepresentation commonly occurs when an individual is asked to disclose information about their medical history, dangerous hobbies or lifestyle. Regardless of whether the individual provided false information on purpose or innocently, the insurance company can consider the policy void. However, it is seldom a "black and white" circumstance and it is always worthwhile having a lawyer review the matter where a claim is denied.
2. Non-payment of premiums
An essential requirement for keeping an active insurance policy is maintaining the premium payment schedule outlined by the policy. Forgetting to pay a premium is a common reason for losing the benefit coverage. It is essential to be aware of the notifications for any missed payments and ensure that the premiums are paid within the so-called "grace period" to maintain the benefits.
3. Exclusion clauses
Each policy provides a list of exclusions that are not covered by the policy. Some of the most common exclusions include death resulting from illness or a natural cause, wartime injuries, suicide, death from illegal activities or hazardous hobbies. It is important to be aware that insurance claim denial based on an exclusion clause may not be final. It is a good idea to discuss your specific policy with a lawyer who can help you better understand what benefits you may be entitled to. 
Have you been denied your insurance claim?  Contact one of our experienced insurance denial lawyers today. We work on a contingency fee arrangement so there is no up-front cost to you and you only pay a legal fee if the insurer pays you 604.581.7001
What to do if your loved one's Accidental Death and Dismemberment insurance is denied?
It is important to remember that insurance policies are essentially contracts in which both parties agree to a set of definitions and terms. As with any contract dispute, contractual definitions and terms are often open to interpretation. That is why having a lawyer experienced in handling Accidental Death Insurance Denial claims can be very important for the outcome of your situation. 
If your loved one's Accidental Death Insurance has been denied, you may be able to contest the decision. An experienced lawyer will be able to work with medical experts, police, and other specialists to prove whether the claim was wrongfully denied. It is important to remember that you only have a limited time to take legal action. Contact our Insurance Denial team today for a free, no-obligation consultation. 
Conclusion
Dealing with the aftermath of a loved one's death can be extremely challenging and having to navigate a denied accidental death claim may seem like an impossible task to take on. Our compassionate lawyers have many decades of experience in disputing denied insurance claims. Contact McQuarrie today for your free initial consultation.
Has your AD&D Insurance claim been denied? Contact us for a free initial consultation.